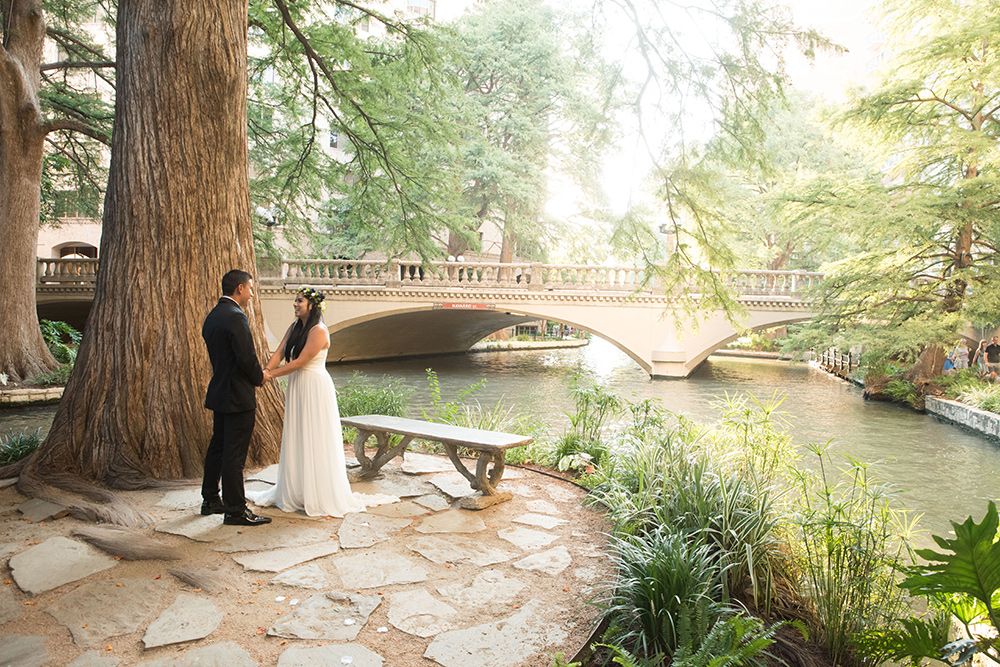 Marriage Island
The Ministry at San Antonio is an award winning expert team of wedding professionals who provide one stop services to cover everything you need for your Marriage Island wedding, San Antonio Destination wedding, San Antonio Elopement, or San Antonio Riverwalk wedding.
As The Original World Famous Riverwalk Wedding Company we work with our clients to provide the most memorable event possible at the best value. We do this by giving each couple access to the knowledge and experience of our highly trained professional staff, by providing world class wedding officiant services performed by genuine ministers, and by providing premium quality products and services in our wedding packages.
We believe in providing every client with the highest quality services and products, every time, for weddings and events of all budgets. Our staff places great importance on maintaining your budget, while saving you unnecessary costs and time where possible, all without sacrificing quality.
Our company has been in business for over 17 years and has professionally planned and performed thousands more weddings than any other local wedding company. Marriage Island is nestled along the banks of the world famous San Antonio Riverwalk and provides an enchanting setting for your wedding.
Marriage Island was awarded "Best place for a Downtown wedding" in 2011, and is named among the worlds top 10 most romantic destination wedding locations, as well as, the top 5 most romantic destination wedding locations in the United States.
The Ministry at San Antonio has the largest and most professional staff of any local wedding company with San Antonio wedding officiants services rated second to none. You simply will not find a more experienced or professional team.
We are a full service all inclusive wedding venue providing all services from wedding ceremony officiants, Floral, Full service Riverwalk wedding & event planning, wedding consulting, event design, live musicians, Horse and Carriage rides, Professional Photography, Cinematic HD Videography and more.
Marriage Island and The Ministry at San Antonio are the premier choice for your San Antonio Riverwalk wedding or elopement.
Our ministers have decades of experience conducting weddings of all types and they arrive early to instruct you and your wedding party on how to proceed. Personal meetings are available, schedule permitting, or you may also have a phone consultation with your minister or one of our staff members prior to your wedding day. Call for your personal consultation today (210) 650-2436.
Wedding Packages & Options for Small or Large Weddings
Marriage Island is ideal for for small weddings but under certain conditions and with additional arrangements and cost requirements, can accommodate weddings of larger sizes. Looking for a wedding package? visit our weddings page for a listing of our most commonly booked wedding packages.
Marriage Island is part of a sensitive natural ecosystem found on the San Antonio Riverwalk.To protect this ecosystem there are restrictions on the amount and type of decor permitted on Marriage Island, this includes the use of arches, chairs, decorative columns, and artificial flowers on Marriage Island all of which are prohibited per city of San Antonio regulations. If you require seating, we have seating options which meet city compliance regulations, please ask for details.
While we wish every wedding could have perfect weather conditions, Marriage Island, LLC is not liable for weather related occurrences. Temperatures exceeding 100 degrees in the summer months and cold temperatures in winter months are considered normal weather conditions. Weather related changes are not refundable.
We do not provide day of back-up options for your event at this venue. If you are concerned about weather, it is recommended that you reserve an indoor venue along with your reservation of Marriage Island. This will guarantee that you have a back-up location in the event of unforeseen weather conditions.
Yes, we can still perform larger weddings. With certain additional arrangements and cost requirements Marriage Island can be configured to accommodate up to 120 guests with patio seating.
We also have additional partner venue options to accommodate up to 500 plus guests near the riverwalk, with on site reception capability.
Our services and Riverwalk wedding packages are available at all of these locations.
Tapas Reception & Champagne Toast
Add a tasteful complement to your Marriage Island wedding. Select from exclusive world class famous makers such as Moet & Chandon White Star- Epernay, France, Moet & Chandon Dom Perignon - Epernay, France, and Louis Roederer Cristal - Remis, France. Domestic brand sparkling wine options also available. Prices vary by maker & vintage. Tapas menu and champagne list available to verified clients by request. A La Carte Pricing.
Full Receptions and Rehearsal Dinners
Our professional event staff will help you plan a fabulous reception or rehearsal dinner at one San Antonio's finest riverwalk or downtown restaurants, hotels, or other popular dining choices. Available to verified Ministry at San Antonio clients only. Prices vary. Ask for details
Private Riverboat Receptions & Cocktail Cruises
Private dinner and cocktail cruises aboard the famous river boats are also available. Take in the scenic views of historic downtown San Antonio as you as you and your guests relax, dine, and enjoy a selection of premium cocktails all while comfortably cruising the San Antonio River. A great way to finish off your Marriage Island wedding. Details available to verified Ministry at San Antonio clients. Prices vary. Ask for details
Since 1691, a history of Marriage Island
The Spanish Priest Damien Massanet established the first Spanish mission in East Texas. During one of his trips Eastward, returning to the mission, Father Massanet encountered a Native American community located near this spot on the banks of what was then known as the Yanaguana River.
Father Damien Massanet and his missionaries conducted a service here on June 13 1691, and renamed the river after St. Anthony de Padua (or San Antonio in spanish).
The Tradition of marriage ceremonies on Marriage Island began shortly after the Mexican Revolution when Mexican priests blessed the area. local folklore, likely originating from the historic blessing of this area by Mexican Priests, speaks of the blessings of good luck and a long and happy marriage to any couple married Marriage Island.
In the San Antonio Express News
It's a San Antonio legend with no obvious origin, repeated frequently by river barge tour guides: Couples who exchange vows on the heart-shaped bit of land known as Marriage Island will be blessed with many happy years.
A look at City Parks and Recreation Department records and Bexar County court filings indicate only four divorces have been sought in Bexar County from among the 32 couples married there in 2007 who had phone numbers in the 210 area code.
It's hardly a scientific, random sample of the 89 marriages performed on the island that year. But the apparent 12 percent divorce rate compares favorably with the 20 percent national rate after five years of marriage, the most recent such statistic available from the Centers for Disease Control and Prevention. So maybe the legend is true?
Source: San Antonio Express News Article by Theresa Clift August 4th 2012.
Joe Weatherford and Tana Coffer get married by minister Darin Watson of The Ministry at San Antonio, on the "marriage island" on August 4, 2012.
Photo: Tom Reel, San Antonio Express-News / ©2012 San Antono Express-News
As Seen In San Antonio Magazine
Marriage Island makes San Antonio Magazine's list of 52 Things Every San Antonian Must Do!
Live this year like a true local with our list of quintessential San Antonio Experiences
#21. Crash a wedding (nicely) on Marriage Island
This heart-shaped island along the river is said to bring luck to new marriages. Dozens of weddings take place here each year so there's more than enough opportunity to become an uninvited guest. Read the entire article Here
Military Wedding Specialists
The Ministry at San Antonio knows first hand what it means to serve. With both active duty and former military and law enforcement on our own staff we proudly serve those who serve to protect our freedom. We provide on base military weddings in San Antonio in addition to our San Antonio Riverwalk Weddings and Downtown San Antonio Weddings. We offer expedited marriage license processing with next business day return delivery on base, or overnight delivery to the address you provide if you are deploying within the next few days. Military Discount available.