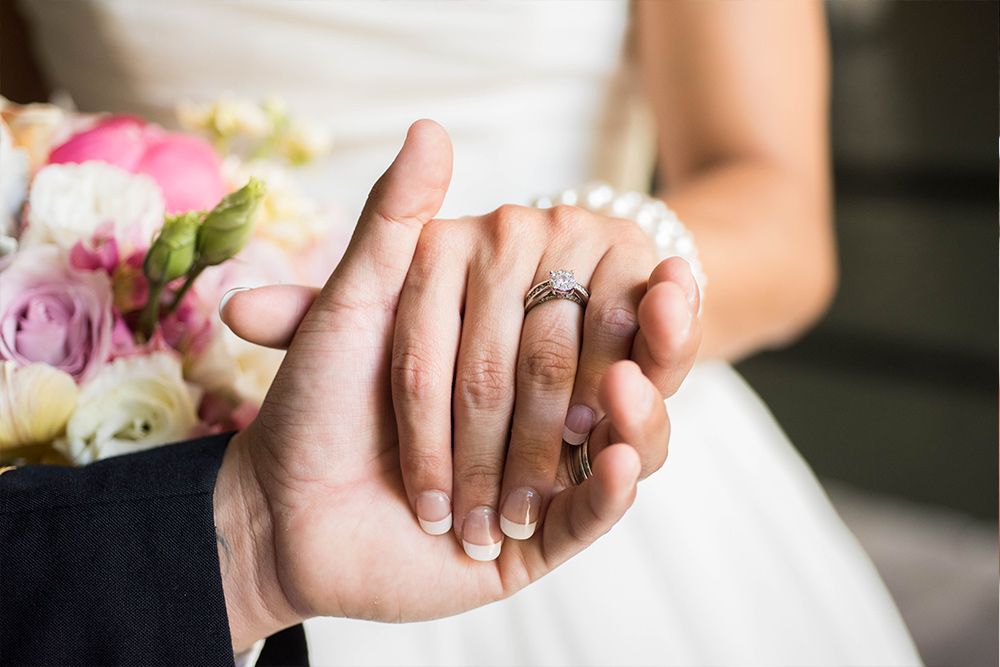 The Ministry at San Antonio, San Antonio's Marriage Island Wedding Officiants®
We welcome you to learn more about The Ministry at San Antonio. If you're in the San Antonio area, or visiting the San Antonio Riverwalk, we encourage you to schedule an appointment to come by our office which is conveniently located within walking distance of the Riverwalk.
We provide a comprehensive array of wedding officiant services in San Antonio, Texas, Formal wedding ceremonies, San Antonio Riverwalk elopements, and destination wedding event planning services custom designed to fit your individual style.
We host the largest staff of any local wedding company, and have built our reputation over many years on the foundation of integrity and unsurpassed knowledge and service excellence. We are the only wedding company with a local office on the San Antonio Riverwalk. Our wedding officiant and event planning services are available both on the San Antonio Riverwalk or at any other venue in the San Antonio area.
San Antonio's Original Premier Riverwalk Wedding Company™
The Ministry at San Antonio is both an active Non-Denominational Christian ministry and the leader in San Antonio Riverwalk Weddings, Riverwalk wedding and event planning, and Riverwalk event design. Our staff is one of the most experienced and sought after professional wedding ministry teams in The State of Texas, and is ranked in the top 5% of local wedding professionals.
We've performed literally thousands of wedding services for couples who come to us from all over the world, and have decades of real world ministry experience. We will answer all of your questions and explain for you in great detail what other competitors can't.
Our professional team stands apart with an impressive resume which includes appearing in an episode of the 2012 CMT cable television wedding industry reality show "Swanderosa", requests by major University continuing education programs to teach event planning and wedding industry classes, Membership in San Antonio's Paseo Del Rio Association, Membership in the Alamo Area Hospitality Association, a Riverwalk based business office, preferred professional listings at San Antonio's most exclusive hotels and venues, rankings in the top 3 wedding officiants locally, the top 5 in the United States, as well as the top 10 worldwide. Marriage Island was also named as 2011's 'best place for a downtown wedding" in the San Antonio Downtown Best Awards.
We have also performed services at the NFL Stadium Lambeau Field, home of the Green Bay Packers in Green Bay, Wisconsin, for Grammy Award winning musicians, Emmy award winning television personalities, and for prestigious personalities locally and worldwide. We invite you to join us and to experience the professional wedding services of The Ministry at San Antonio, Marriage Island, and the beautiful San Antonio Riverwalk. We invite you to become a part of our family!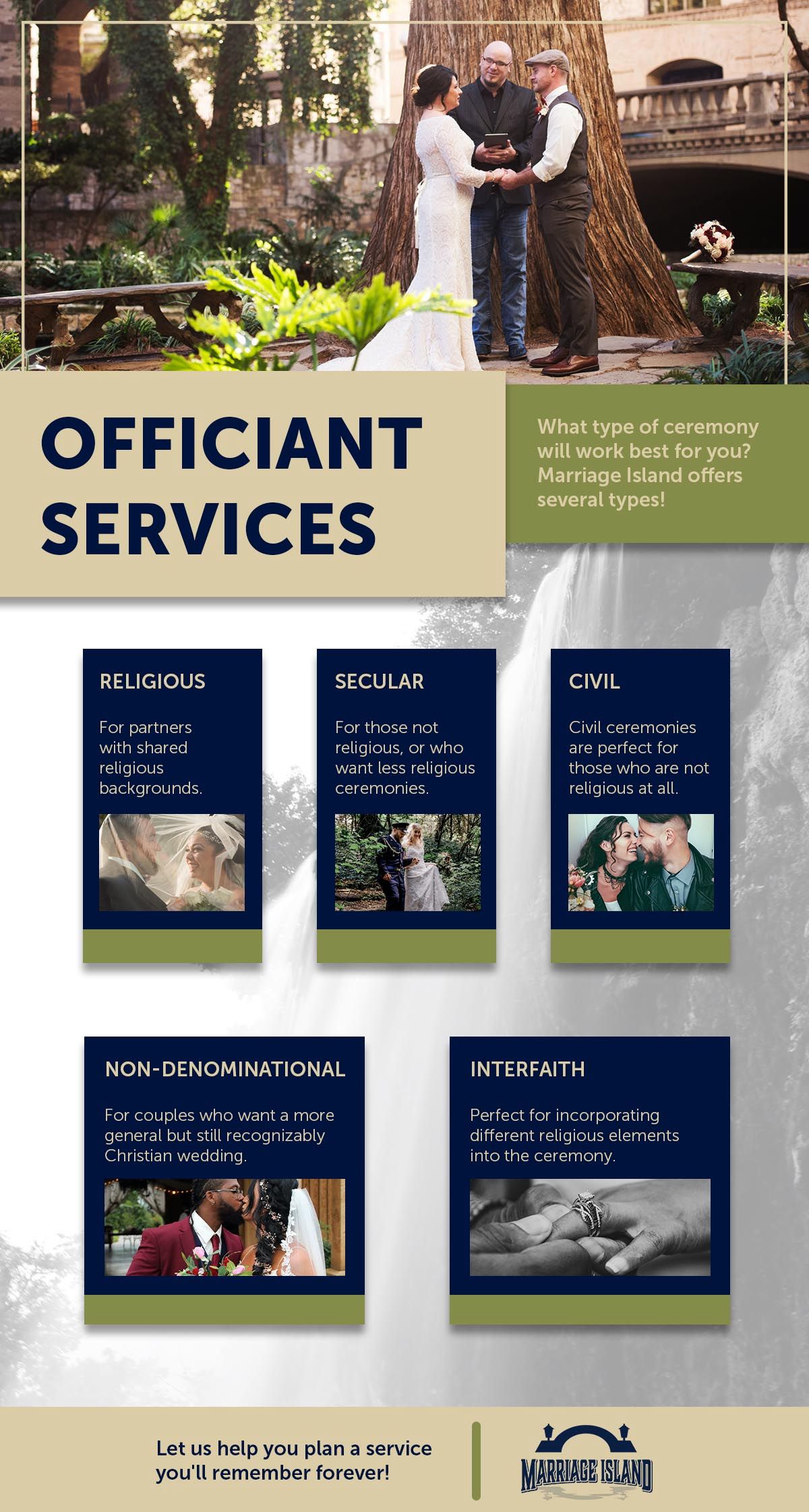 Why Choose The Ministry at San Antonio
The wedding industry is a complex maze of the unknown. You're comparing prices and shopping around but are you actually comparing equal services? Are you even comparing real ministers, or online "ordained" officiants with no real credentials or experience at all? Do you even know? Chances are you're not comparing equal services or equal quality and you don't even realize it.
You will not find a more experienced true professional team in San Antonio. Our ministers have decades of experience in ministry and performing all types of weddings. The single biggest mistake a couple can make is shopping for their wedding based on price alone.
Experience matters, there are no do-overs or second chances to get the moment right. As the leader in San Antonio Riverwalk weddings we know the importance of the small details, and how to take your event much further than the rest.
No minister or officiant can simply ask to join our team, each minister was hand selected for their experience, professionalism, and expertise. We have the largest and most experienced staff in the industry with 10 to 30 or more years of experience behind our lead ministers resulting in well over a century of combined real world ministry experience. We know the meaning and importance of real value, personal respect, and quality over the cheapest cost.
This is your moment and your memories, so we hold our staff to the highest standards of professional conduct, knowledge, and appearance to provide you and your guests with an enjoyable experience.
We only use trusted and verified vendors and service providers that are genuine experts in their field. Whether you are planning an extraordinary wedding event or a simple, yet memorable elopement, our staff will stop at nothing to ensure your total satisfaction.
With over a decade of leadership in our field, it is our goal to advocate for you ensuring your event is executed properly by providing you with our wide range of knowledge and experience.
Television Appearances
In July of 2011 The Staff of The Ministry at San Antonio filmed on location in Helotes, Texas as part of an episode of CMT's 2012 Wedding Reality Series "Swanderosa".
As seen In the San Antonio Express News
The Ministry at San Antonio and Marriage Island were featured in an August 4th 2012 San Antonio Express News article written by Theresa Clift.
Joe Weatherford and Tana Coffer get married by minister Darin Watson of The Ministry at San Antonio on the "marriage island" on August 4, 2012.
Photo: Tom Reel, San Antonio Express-News / ©2012 San Antono Express-News
As seen in Trends Magazine
Marriage Island was featured on page 21 of the March 2012 edition of Trends Magazine with photo credit to The Ministry at San Antonio and partners Parish Photography.
As seen in San Antonio Magazine
Marriage Island makes San Antonio Magazine's 2013 list of 52 Things Every San Antonian Must Do!
As Seen on Yahoo Travel
Amidst the hustle and bustle of big-city San Antonio, couples can find some peace and tranquility as they stroll along the city's innovative Riverwalk, past lovely restaurants and shops and sometimes alone with only trees and silence. It is possible to wine and dine, float in a boat and even to get married at a place called Marriage Island. Enjoy some private moments on the Riverwalk before you remember the Alamo.
As Seen on Kens 5 News San Antonio
The Ministry at San Antonio & Marriage Island were featured on Kens 5 News San Antonio on November 12th 2013 on the 4:00pm News.
As seen in The New York Times
Marriage Island received mention in the New York Times along with San Antonio as the most romantic city in the United States.
As seen in S.A. Monthly Magazine
Our San Antonio Helicopter Weddings and partnership with Alamo Helicopter Tours were featured on page 61 of the October 2014 issue of SA Monthly Magazine.
As Seen on WOAI News 4 San Antonio
WOAI-TV News 4 story on 12/13/14 wedding ceremonies features Marriage Island.